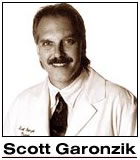 Mr. Garonzik is from Harrisburg, PA., and attended Penn State University. He trained under Hugh Laubheimer who was one of the original glass blowing artificial eye makers.
A major goal of Mr. Garonzik in starting the Prosthetic Eye Institute was to do more than just making and fitting artificial eyes. Mr. Garonzik has coauthored several papers which have been published already, and 2 papers which have been accepted for publication in major eye journals.
We have two Ocularists with SNG who have been with the company for over 10 years. Both Ocularists were trained by the founder Scott Garonzik, who was trained by Hugh Laubenheimer. Our Ocularists not only do the fitting procedures, but also work in the lab to fabricate and make the custom artificial eyes. We are also currently training a lab tech to become an Ocularist.