SNG Prosthetic Eye Institute
One of the leading centers in Florida for custom artificial eye care
SNG Prosthetic Eye Institute was founded in 1989 and has become one of the leading centers in Florida for custom artificial eye care. We are very well aware of what you may be feeling. We assure you that that we will do everything we can to make you feel as comfortable as possible. We will fully explain everything we do and will happily answer any questions you may have.
We meet with approximately 150 clients weekly. All of them wear at least one prosthesis while some require two. If you would like to talk to one of our clients, we will be happy to match you up with someone whose situation is similar to yours. We feel this is the best way possible to make your initial adjustment period less stressful.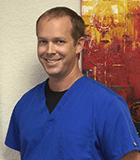 Scott Marsh –Scott was born in Boynton Beach, Florida and graduated from Florida Atlantic University with a double bachelor's degree. His curiosity in fabricating and fitting of the prosthetic eyes and his passion for art led him to train and become the Ocularist he is today. He prides himself on his dedication to the field of Ocularistry and has developed a custom Digital Iris Technology that will soon be available to all patients free of charge. In his free time he enjoys spending time with his two sons and wife. Among other activities he is very active in his church and volunteers at the church and community out reach programs. He is an extremely family oriented individual and that compassion is reflective in his approach to patient care. He makes every effort to ensure that every patient feels at home and comfortable during their visit.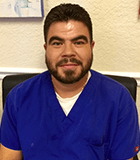 Peter Gutierrez – Peter was the company founder's first understudy over 10 years ago. He was originally hired to do the artwork and painting of the artificial eyes. His background as an artist translated not only into the making of the prosthetic eyes but also the fitting. Peter is Bi lingual; speaking both Spanish and English. His hard work and dedication are what makes him a master of his craft.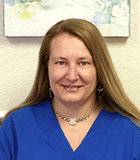 Marcia Ciepielewski – Marcia is from Brazil and is trilingual. She speaks English, Spanish, and Portuguese. Graduating from dental lab school in 1996 she started working at SNG Prosthetic Eye Institute immediately thereafter. She was the company's first employee and trained under Scott Garonzik until 2001. She took time off to raise her two beautiful twins while working as a self employed artist. She then returned to SNG in 2010 and has been here ever since. As an artist, Marcia uses her background in painting and sculpting to create the most accurate and natural looking prosthesis for her patients. In her free time she enjoys riding her jet ski and surfing with her wonderful twins. She is also still very active in the artist community by participating in art fairs and shows.